Internships for Sportscasters, Sports Journalism and Reporting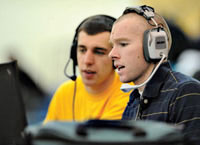 KLSN Sports Radio can provide experience for students that are on an educational and career track for broadcasting. Accepted applicants apply what they learned in journalism class by interviewing coaches, players and fans. Those with the aptitude can learn play-by-play game announcing. Internships and apprenticeships can be a hiring advantage for East County graduates in a competitive industry. Contact the office for more information.
General Apprenticeships
Sports Radio Staff
Life Goals Bucket List Item #47: Call play-by-play at a baseball game!
Do you have an untapped talent for sportscasting? Do you have an energetic outgoing personality and are looking for something fun to do in your spare time? KLSN Sports Radio may have a place for you! Enthusiastic beginners willing to learn are welcome! Former broadcasters or reporters looking to re-enter the field may find this is the place for you to get back into the game.
Audio Engineers
Your recording arts degree and/or experience can be put to good use at KLSN. Work with program producers to craft professional shows, gain valuable in-studio experience and add your name to program credits.
Producers
Do you have solid project management and leadership skills? KLSN is looking for area residents to be program producers. As a producer, you will work with other community members to bring all the elements of a radio show together. Radio experience not needed.
Assistant and Associate Producers
This is a great way to gain experience in radio program production. No experience? No problem! Learn as you go while working with enthusiastic teammates toward the common goal of creating great radio.
Radio Announcers, News and Traffic Reporters
Record voice-overs, station IDs, promos and underwriting acknowledgements. Learn to report on news and traffic conditions.
Station Operators
Solid ground floor opportunity for budding broadcasters to find out what all those flashing lights and buttons do. Station operators learn the nuts and bolts of radio station operations.
Disk Jockey - Program Host
Think you can spin records? Are you the next Wolfman Jack? It takes an outgoing personality, a love of music, and a flair for showmanship.
Radio Station Staff Volunteers
Not sure where you could fit in but still want to participate. Station Staff Volunteers do lots of tasks needed to keep us on the air. In the meanwhile, you can see - up close - what it takes to run a radio station. Lots of opportunity to discovery what you want to do.