All over the country there are low-power radio stations pumping out high-powered content relevant to their local communities. These stations are built and operated by community members, students, seniors, business people, towns, parents, colleges, neighbors and friends. The KLSN community is people joining together to contribute their time and talents to create diverse and special programming.
Programming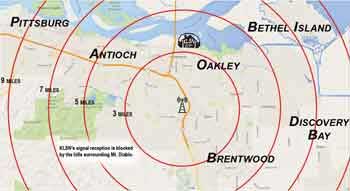 Our programming falls into five main categories:
60s and 70s Classic Rock with a slice of the Blues,
Sports broadcasting for the games at Bay Valley Athletic League high schools, and the Pittsburg Diamonds,
News, stories and events with a focus on our East County Communities,
Student programs produced by BVAL high schools and Los Medanos College,
Community programming produced by local residents. Program List
KLSN Broadcast Radius
KLSN's broadcast tower is located on the ridge near Bypass Road and Lone Tree Blvd.
The transmitter's range varies from 5 to 15 miles depending upon the weather. If you're having difficulty hearing us, remember that large obstacles or thick building walls may block our signal. Our broadcast will cover Oakley, Antioch, Brentwood, Knightsen, Discovery Bay, Bethel Island and Sherman Island. Within our broadcast area, there are a combined population of approximately 270,000 residents, 6 public high schools and two college campuses.